Pastoral Care
The developing and nurturing of the students in our care is the central focus of our mission statement. The school ethos reflects this concern for the individual and their personal and social development. To further this end, every effort is made to foster a caring and supportive school community. Morning assembly has an important function in fostering a sense of community.
Each class has a form tutor who takes particular interest in the wellbeing of the pupils in that class. The form teacher is available to guide, assist and support the students in their care.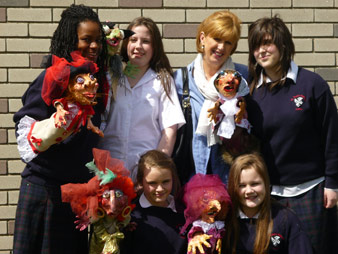 The school has a well-developed S.P.H.E. (social, personal and health education). This programme gives the students the knowledge and skills to lead a healthy life and to make informed and responsible decisions. For further information visit the
S.P.H.E. website ».
The school has a strong anti-bullying policy » and students are encouraged to tell a member of staff if they have any concerns about this issue. St Mary's is fortunate in having the services of a full time student counsellor and home liaison person.
The pastoral needs of the pupils including those with emotional or social needs are managed effectively in an atmosphere which promotes fairness and respect.
D.E.S. Inspectors' Report
Personal responsibility, independence and positive civic and social attitudes are fostered among the pupils.
WSE report, 2010
Good humour and good relationships between pupils and between teachers and pupils have a positive impact on learning at all levels. WSE report, 2010