Website Policy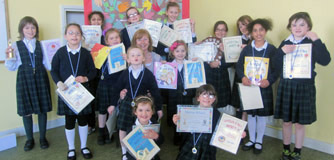 It is the school's first duty to ensure that every child in their care is safe and therefore that no individual child could be identified or contacted by visitors to the school's website. A similar responsibility also applies to school staff and to the general security of school premises. The following rules will be adopted by everyone involved in preparing the materials for the school website:
Photographs of pupils are only of general groups, in full clothing, preferably at a distance or otherwise not easily identified- e.g. with face averted. Individual photos are not be used.
No names or other identifying information are attached to photographs.
The content of pictures are considered for good taste and the dignity of people in the pictures.
Pupil's work displayed online is identified only by class - e.g. "painting/writing by a 2nd year pupil" and will not contain information, such as family names, which might identify that pupil or family members. Nicknames which do not allow identification of child are allowed.
Any incident of an image considered by a pupil, staff member or parent to be inappropriate to the website or these guidelines should be reported to the principal. The person reporting may chose to do so anonymously, but must give reasons why they feel the images is not appropriate.
Events and trips. General information only.
Copyright
This website © Copyright St Mary's School for Deaf Girls. Most of the material featured on our website is subject to copyright protection unless otherwise indicated. Student work can be published on the St Mary's School for Deaf Girls website but remains the copyright of the student. If any work found on the St Mary's School for Deaf Girls website is reproduced, published or issued to other, the source and copyright of the work should be acknowledged.
Where material from other sources is published on our website we endeavour to acknowledge the source and copyright status of that work. Any transgressions you are aware of should be directed to the school by email indicating the page(s) which you believe are not compliant with our policy or general web etiquette.
Links
An ever-increasing number of organisations and institutions are linked to our website. St Mary's School for Deaf Girls is not responsible for the contents or reliability of the linked websites and does not necessarily endorse the views expressed within them. Listing shall not be taken as endorsement of any kind. We cannot guarantee that these links will work all of the time and we have no control over availability of the linked pages.
Disclaimer
St Mary's School for Deaf Girls hereby grants visitors to this World Wide Web site access to these pages conditional upon your agreement to accept the application of the laws of Ireland to govern matters between us in relation to this web site and you agree to indemnify us and not hold us liable for the result foreseeable of any actions you may take based on the information contained herein.