Marian Primary School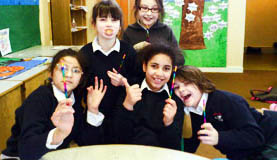 Marian Primary School, the primary section of St. Mary's School for Deaf Girls, is situated in the grounds of Dominican Convent in Cabra, Dublin 7. This modern, purpose-built school was officially opened in 1988.
The children access the standard Department of Education curriculum that is available in mainstream schools but will also benefit from having a communicating and teaching environment that is specially geared toward educating Deaf and Hard of Hearing children.
Our small class size allows us to offer intensive, individual attention in a relaxed, friendly and caring environment, which is warm and inclusive. As students are among their peers they feel part of a community. Students interact with pupils who have the same needs as themselves and make life-long friends while at the school.
We welcome both day and residential students. Transport to and from school is provided for students. A dedicated team of teachers, assistants, residential care workers and others, with specialist knowledge and expertise is available to our students.
The Primary Section represents a very stimulating learning environment for the pupils. School corridors and classrooms are tastefully decorated with pupils' work samples in a wide range of curriculum areas.
WSE report, 2010